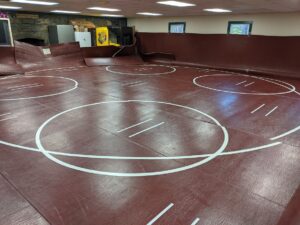 **Our 2022 winter youth wrestling season has come to close.  For those interested in extending their season, see options below**
Sunfox Campground utilizes our Rec Hall in the off-season to offer a 6-week youth wrestling clinic to local students in grades 2-8. NO EXPERIENCE NEEDED.   This program is being run by Dave Nowakowski, former high school and youth coach, and current tournament director and member of the CIAC wrestling committee.  The primary program is being offered through the Town of Lisbon Rec Program (see below), with additional options through USA Wrestling of CT to join other local clubs and participate in regional and state tournaments.
Extended Season Options:  For our youth wrestlers looking to wrestle beyond December, there are a variety of local options.   We would suggest checking out Top Game in Plainfield (website), where your first visit is free, or The Silverback Club at the new Windham Rec Center on Tuesdays and Thursdays from 6pm-7:30pm.
Medal winners from our season ending tournament on Dec 20, 2022 (a few kids were missing, due to other sports or illness).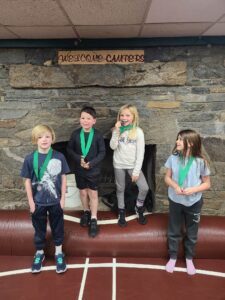 2022 Lisbon Rec Youth Wrestling
Wrestling clinics, practices & a season-ending tournament.
Cost:  Registration fee of $10/child (Lisbon residents) or $20 for non-Lisbon residents (if space permits, as 30 of 48 slots will be held for Lisbon residents, while 18 are initially open to non-residents)
Who: Lisbon boys & girls in grades 2-8 and limited surrounding town students from Griswold, Canterbury, Sprague, Franklin, Norwich etc (if space available).  No experience needed. Limited to 48 wrestlers.
When: Tuesdays & Thursdays 5:15pm until 6:30pm for grades 2-8 (allowing middle school students who are playing basketball for their school to also wrestle).  Please note we have consolidated the younger and older groups, as we have fewer than 24 total wrestlers.
Where: Sunfox Campground Rec Hall (15 Kenyon Rd Lisbon).  Please drive slowly through campground and neighborhood.  Parking available on campsites located past the office/rec hall building (down hill, either side of road)
Date Range: Early November through late Dec (approximately 6 weeks, with a concluding tournament for those who attend at least 2/3 of the sessions).  Start Thurs Nov 10, continue Nov 15 & 17, skip Thanksgiving week of Nov 22 & 24, resume Nov 29 & Dec 1, continue  Dec 6 & 8; Dec 13 & 15; Dec 20 and a concluding tournament on Dec 22  (divisions based on age & weight).  Those interested in continuing after the holidays should consider options such as Silverback Wrestling Club at the new Windham Recreation Center or Top Game in Plainfield.
No experience needed. Short sessions teaching basics of wrestling, as well as physical fitness and sportsmanship.
T-shirts and shorts are to be worn, but if a chilly night, please consider sweatpants & sweatshirt (limited heat in our wrestling room). Please bring a water bottle, and note that there are no locker rooms (and the bathrooms are not in the same building, so try to take care of business prior). Guest instructors may include coaches and former collegiate wrestlers.
Wrestling shoes encouraged but not required (to keep mats clean, wrestlers must change into the shoes they will wear on the mat after entering the wrestling room wearing "outside shoes"—please do not enter wearing your "wrestling shoes").
Parents are not required to remain (limited space…Lisbon Landing is 5 minutes away, so you can go do some shopping), but if opting to stay, due to spacing limitations, limit the number of people watching.
Wrestling provides athletes a chance to improve balance, strength, flexibility, self-confidence, mental toughness, fitness, discipline, teamwork and work ethic. Unlike many sports, any size or body type can wrestle, as there are weight classes that promote competition against similarly sized opponents. For more general information on wrestling, there are numerous websites explaining the basic rules and techniques.
For more information on this program, please call Dave Nowakowski at 860-705-2629 or email any questions to dave@sunfoxcampground.com.  See our Facebook page under "Sunfox Youth Wrestling" Also, a "teamsnap" type group will be established to update parents about any weather cancellations or changes.  There will NOT be any "group text" formed, as they are terribly annoying.
Lisbon Youth Wrestling Registration Form—You may either copy and paste the info into an email to dave@sunfoxcampground.com, or you can print it out and bring it with you to registration night or you can mail it with a check to "Town of Lisbon Recreation".  For easier printing, you may wish to use this PDF form link  2022 Sunfox Youth Wrestling
Wrestler Name:   _______________________________ Grade: _____    Date of Birth: ___/___/___ Weight: ______(est)
2nd Wrestler of same family: ______________________ Grade: _____    Date of Birth: ___/___/___ Weight: ______(est)
Address: ____________________________________________                  City: _____________    Zip: _____________
Parent/Guardian Name: ____________________________          Parent Contact Phone: ______________________
Parent Signature: _______________________________                email: ________________________________
Emergency contact name ________________________                 Phone: ______________________
Parent signature above constitutes waiver, releasing Town of Lisbon, any associated coaches and host location of Sunfox Campground LLC from all liability for any injury or accident that may occur during course of this program.
Please mail this portion of the form, along with registration fee to:  Dave Nowakowski  15 Kenyon Rd Lisbon  CT  06351 (check may be made out to "Town of Lisbon Recreation"), or bring with you to your first practice.
Additional options: Those interested in additional instruction and local or regional tournaments should consider joining USA Wrestling ($46/season).  Membership is required to attend tournaments (other than our free event limited to our participants).  See www.usawmembership.com to enroll. If enough wrestlers get their USA cards, we will attempt to schedule a match or 2 against other local schools/clubs.  Numerous private wrestling clubs are offered in the region. Please note that local tournaments are typically conducted on Sundays, and are not recommended for first year wrestlers unless it is a NOVICE event. Your child's USA card does not cover the cost of these other tournament entry fees.  Other tournament options include "WAR" style events (2 were held in Middletown in 2021-22), where kids get matched up as evenly as possibly.
Any parent with wrestling experience is welcome to assist with the Lisbon Rec clinic and practices, but if coaching with the USA Wrestling sessions, or if looking to coach at any tournaments, you will be required to complete a free USA wrestling Safesport course, get a wrestling leader card ($52/yr) and a USA wrestling background check ($30 every 2 yrs).
Any cancellation/postponement due to weather (snow or bitter temperatures below 20 degrees) will be announced by 3pm.  Guest instructors may make appearances, including current and former high school coaches and collegiate wrestlers.
The calendar below will show practice times and dates, as well as local high school home matches for Griswold and NFA (in case you want to watch a match), and local CT USA Youth Tournaments on Sundays (not encouraged for first-year wrestlers, unless listed as a "novice" event, and USA Wrestling card must be purchased for tournaments, with advance registration required).
For additional information on youth tournaments in CT, please visit USA Wrestling CT
You can also visit the Facebook page for USA Wrestling CT
The following information represents a variety of proposals intended to increase the overall appeal of wrestling, increase the action and simplify scoring.  These views are mine, and may not represent the opinions of USA Wrestling or the CIAC wrestling Committee, and have nothing to do with our youth wrestling program, so unless you are a serious fan, it it probably too much information.
In addition to posting my thoughts on revitalizing HS wrestling to various message boards such as "Pin to Win", "MassWrestling", "ConnWrestling" and "The Mat", I will summarize the ideas here as well.  The following ideas are based on an attempt to increase action, increase & simplify scoring, increase participation, reduce forfeits and increase fan interest.  Some are original, others borrowed (or modified from those such as Wade Schalles), and some are concepts that have appeared on annual surveys or as forum suggestions or comments.
**Individual Match Scoring
**Team Scoring
**Weight Classes
**Weigh-Ins
**Growth Allowances
Individual Match Scoring (increases & simplifies scoring, emphasizing takedowns and back points)
Even for devoted fans, too many matches are boring.  Low scoring, trying to keep it close and often going to overtime with a 1-1 score.  There must be more of an incentive for each wrestler to score, and this is partially addressed in the "team scoring" later, but scoring that rewards takedowns and nearfalls is a start.
1. Implement 4-3-2-1 scoring.  This simplifies scoring for all involved (wrestlers, coaches, refs and fans).
a. Takedowns are worth 3 points.  Action on your feet needs to be encouraged.  In addition, those who are superior in neutral are often only gaining a small advantage if electing to release the defensive wrestler.  If you take down your opponent twice, opt to release him and then cut him free from the bottom to start the 2nd period, you have been rather dominant but only lead 4-3.  Your foe may be allowed to counter and stall his way into a match that is tighter than it should be.  While there are some who advocate only the FIRST takedown being worth 3 points, I believe that relative to other scoring, ALL takedowns should earn 3 points.
b. Reversals are worth 2 points.  No change to this scoring. However, by increasing takedowns, more bottom wrestlers will look to score escapes rather than reversals.
c. Escapes are worth 1 point.  There are some who believe that an offensive wrestler should not have to give up any points when "cutting free" a defensive wrestler.  However, with the 3-point takedown, the escape point should remain.
d. Nearfall are worth 2-4 points (2 swipes of referee's arm earns 2 points, 4 swipes/seconds earns 3 and 6 earns 4).  Simplified back points, ranging from 2 points for a 2 count, to 4 points for a 6 count.  Some have proposed per swipe, but that near of an increment becomes too much of a debate regarding ref counts.
e. Penalties simply progress from 1-2-3-4-DQ (same for stalling).  Completely separate penalty points and stalling points, with first offense 1 point, 2nd offense 2 points and son on…up to 4 points.  A fifth violation would be a DQ.  For stalling, the same point scale…but may retain the caution for first offense (which must be more willing to be awarded early, as opposed to just for show in the last 10 seconds).
f. If college maintaining riding point, should only be awarded if near fall has been earned.  Although personally against any riding points, college tradition would have some resistance eliminating this form of stalling…so at least make it earned only if the wrestler with the 1 minute advantage has earned at least one near fall.
II. Team Scoring–Implement "MOV" bonus and "Action" Bonus (rewards all match points scored, increasing action for duration of the match)
1. Implement "Margin of Victory" bonus.
a. Winner receives 2 base team points for a win (including any OT win), plus 0.1 to 1.4 for MOV (for a "Margin of Victory from 1 pt to 14 pts).
b. Also includes "action" points for # of points scored by the winner, with an additional "action bonus" for actual number of pts scored by winner, ranging from 0.1 (for 1 point) up to a max of 1.5 for a winner scoring 15 pts or more. Decisions would then range from 2.2 (for a 1-0 win) to 4.9 pts (for a 15-1 win).
c.  Tech Fall still 5 team points (for MOV or match lead of 15 pts or more) and pin or default 6 team points.
d.  A forfeit becomes 7 points.  Too often, wrestlers are bumped away from other good wrestlers.  This would be in conjunction with "locked line-ups" and only applies if a wrestler is listed on the line-up and that weight is subsequently forfeited (not having a wrestler entered in the line-up for a weight class would be a traditional 6 point forfeit).
e. For tournaments, eliminate advancement points and simply award team pts as shown (2.2 to 6.0 pts), with consi bracket points cut in half, maintaining placement points.  Byes (when followed by a win) would be worth 2 points on championship side and 1 point in consi bracket.
III.  Matside Weigh-Ins & Locked Line-Ups (improves weight control protocol by discouraging excessive weight loss  and reduces forfeits by locking in line-ups)
1. Increase all weight classes by 2 pounds to allow for uniforms, shoes, headgear etc.
2. Procedures will vary slightly based on dual meet (or multi dual) and individually bracketed tournaments
3. Dual Meet Procedure
A. Locked Line-Up: Require each coach to submit a locked-in line-up to the official 10 minutes prior to start of dual, just prior to any introductions or playing of National Anthem.  Rationale: a coin toss should not have such an impact on a dual meet result, and forfeits and ducking of quality opponents will be reduced.  Referee will present line-ups to the head table to be entered into scorebook and for introductions.
B. Weigh in when reporting to table ready to wrestle (scale available prior, including during warm-ups, to check weight).  Referee will supervise each weigh-in at the head table, confirming weight of each wrestler.  Option for headgear to be included or put on after weigh-in as proceeding to center of the mat.
C. For a dual-meet team tourney or multi dual, a wrestler can't compete in more than 2 different weight classes for the event.  Wrestler may compete in class for which qualifies OR may wrestle up 1 (one weight class) above which initial weigh in of the event allows.  Ex:  Wrestler A makes 132 for first dual.  This allows him to wrestle 132 or 138 during event, provided he makes weight for subsequent rounds.  If he does not make 132, he may still wrestle 138, but MAY NOT then wrestle 145.
D. Weigh ins will be held prior to each "odd" round of the dual tourney/multi meet.  Scratch weight for round one, with one additional pound for round #3 and a second additional pound for round #5 (maximum number of matches in 1 day per NFHS).
E.   If wrestler who is listed on lineup for that dual does not get sent out to wrestle, either by failure to make weight when called matside, or by removal from line-up by coach, it is a forfeit and that wrestler may not wrestle at a higher weight class in that same dual.  That wrestler may not be replaced by a teammate–it is a forfeit resulting in 7 team points for the opposing team.  Wrestlers will adjust to wrestling at a weight class for which they are best suited, as they will need to actually wrestle at that weight (as opposed to weighing in at that weight and actually competing at a significantly higher amount).
4. Individually Bracketed Tournament Procedure–A bit more tricky.
A. Initial matside weigh in prior to first round matches (including all wrestlers receiving byes).
B. One pound allowance for semi-finals (and corresponding consolation round of consi quarters) and additional second pound for championship finals (and consi medal round).  Maintain additional one pound allowance for 2nd day of 2-day event.
C. Weigh in to take place matside.  Scales at each mat if possible, or between mats if not enough scales available.  Wrestler failing to make weight on designated scale may make 1 attempt at each other available scale.
D.   Any wrestler failing to make weight for first round is considered a scratch (entered as a "forfeit"), and is deleted from the event.
E. Any wrestler failing to make weight for the semifinals (or corresponding consi round) is considered a forfeit.  Team does not lose all points earned for that wrestler, and wrestler may continue in the tournament if same weight is made for next round (even if that round would not have required a weigh in).  Ex:  Wrestler B fails to make weight for the semifinals.  He drops down to the consi semis, and must make the same weight he was required to make for the championship semis in order to compete in the consi round.
IV.  Growth Allowances
As originally intended, growth allowances are well suited for high school wrestlers who are still growing.  However, the terminology and implementation has changed over the years, diminishing the effectiveness.  The following re-establishes a true growth allowance.

Weight certification process that determines a minimum weight based on 7% for males and 12% for females must be based on establishing a minimum weight class that reflects scratch weight classes at the start of the season.  Ex:  Wrestler A has an initial certification that determines his body fat would permit him to wrestle at a minimum of 134 pounds.  This should not permit him to wrestle in the 132 pound weight class even after the "growth allowances" are implemented and the weight class becomes 134.  Growth allowances are intended to allow for growth–not intended to permit wrestling at a lower weight class during descent.

Due to varying start dates in each state, the following is an attempt to provide a consistent growth allowance schedule that covers the regular and post-season, with an additional pound every 3rd week.  Dates are based on an approximation, but for January & February would be the Sunday that is nearest the dates shown of the month.

Scratch weight classes from start of season until December 25 (ie 106)

Two pound allowance on December 25 (ie 106 becomes 108)

One additional pound on January 15 (ie 106 is now 109)

One additional pound on February 10 (ie 106 is now 110)

Note: If maintaining current NFHS wording regarding "average weekly descent" (as opposed to monitored weekly descent), the rule requiring a minimum number of weigh-ins (ie 33%) at the lowest weight class during the season seeking post-season eligibility should be re-established.
V.  Weight Classes
Reduce the number of weight classes from 14 to 12.

There remain far too many forfeits, and the ability of many schools to adequately fill 14 weights remains a struggle.

Dual meet tie-breaker criteria becomes 1 step in 99% of ties

Reduction of weight classes would invigorate JV level programs

The current 6-pound differences between weight classes encourages unhealthy weight loss.  A slightly greater difference between classes would discourage this.  Currently, someone around 132 knows that 126 becomes 128 with an allowance…and for 2-day events, what once was 126 is now 130.

The duration of tournaments would be reduced, a benefit to fans and teams.

A high-caliber dual (or tournament finals/medal round) would be reduced from around 2 hours to around 80 minutes.

Comparable weights to college (with an additional lower weight class)

Begin to reign in escalating costs of officials, particularly at tournaments

Proposed 12 weight classes: 109, 116, 123, 130, 137, 144, 152, 162, 174, 190, 215 and 285 (if implementing matside weigh-ins, add 2 pounds to each class).

Consider option of allowing teams in tournaments to enter a 2nd scoring wrestler in 1-2 weight classes (so up to 12-13 scorers).  If this creates some brackets that are larger than can be handled in terms of mats and 5-match rule, the 2nd entrants may need to meet in a single elimination rat-tail round on the opposite side of the bracket from the team's seeded entry.  However, the new rule permitting a 6th match for state tournament series should prevent situations.