Frequently Asked Questions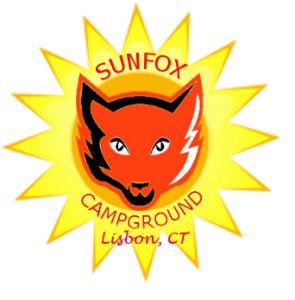 Q:  Is there a swimming pool?
A:  YES!!!  After an exhaustive permit process, the new swimming pool and adult hot tub opened in August of 2016.  Since our first year as the new owners of Sunfox Campground, we added a 48-channel satellite cable TV system and a Jumping Pillow, a Turbo Chute Waterslide, the swimming pool & hot tub, our Spacenet Climber, Super Nova and playground spinners, a new playscape, with swings and a GaGa Ball Pit, and most recently, an 80×40 event tent, an RC Racetrack, a Disc Golf Course, a new basketball court with pickleball nets, a soccer/football field 60 yards long by 30 yards wide, and 3 beach volleyball courts.
Q:  Are there any seasonal sites still available for 2023?
A:  While we don't have any seasonal sites at this time, we have a long waiting list for the 2023 season, and are optimistic that a few new sites will be opened in 2024…please see our Seasonal Info
Q:  Do you have dances, bonfires, Hokey Pokeys and other fun stuff?
A:  Yes, we are offering a full activity schedule, with special event weekends in the spring and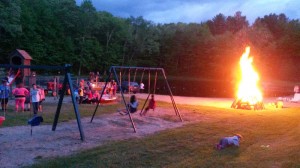 fall, as well as daily events during the summer.  We look forward to The Chicken Dance, The Button Factory, wagon rides and bonfires with mellow acoustic performers.  Check out our sample-summer-activity-schedule
Q:  How many sites do you have?
A:  We currently have 80 sites, of which about 45 are "seasonals", with 2 on-site Park Model rentals and transient sites also available for weekly and weekend reservations.  We have received our zoning approvals to add 29 new sites, and hope to have them available for 2024!
Q:  Do you have cable TV?
A:  We have completed the installation of a new 48-channel satellite cable TV system.  For more details, including channels, see our WiFi and TV link.
Q:  Do you allow pets?
A:  Yes, we are pet-friendly, and permit well-behaved dogs on our sites and in most of our rental units.
Q:  Why did you change the name of the campground when you purchased it in 2014…and where does the name "Sunfox" come from?
A:  The former owners, Randy & Jane P, had renamed the campground "Deer Haven" when they bought it about 20 years ago (it was Hill-n-Dale back then).  A new name signifies a new start, and more easily indicates a change in ownership.  We had debated many possibilities, but liked the unique quality of Sunfox.  Also, as we are at the exit that is halfway between Mohegan Sun and Foxwoods, that made sense as well.  We hope you like the logo and artwork.
Q:  What are the names of your four adorable children?

A:  Since we did not have permission to use photos of any other campers prior to purchasing the campground, we had to utilize shots of our 4 kids, including this oldie but goodie. The 3 boys are named in alphabetical order for ease in recall, with 2023 ages of Brock (16), Reed (14), Trey (12), and the little lady is Sage (10).
Q:  Are there many other kids at Sunfox?
A:  We are excited that so many families with children and grandchildren come to camp with us, either for a short stay or for the season, and are thrilled to welcome many new seasonal campers with kids of their own!  We look forward to nice kids growing up into nice adults, as we have fond memories of this happening where we used to work and camp, with kids like Lenny, Bethany, Nicole, Keri, Bruce, Jeannine, Kenny and far too many others to mention here…although if you ask us on our Facebook page, we will gladly add you to this list–even guys like Sherman and Josh F!