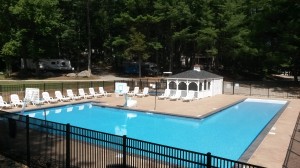 Sunfox invites you to visit our new swimming pool complex. The main pool is 24 x 48, with an extended L-shape design that is 12 x 42, featuring a zero-depth beach entry perfect for our younger swimmers.  We also offer a whirlpool hot tub spa for adults 18 & over, as well as a large deck. Both the pool and the hot tub utilize state-of-art chlorinators, supplemented by UV and Ozone sanitizing systems, providing superior water clarity. 
2022 Expected Pool Hours and Dates: We expect to re-open the pool in mid-May (May 6 is our goal), with limited weekend hours in the spring and fall, and full-time hours of 10am to 8pm in the summer (June 17 through Labor Day), weather permitting.  The pool and hot tub are open through the weekend of September 16-18.  The adult hot tub is heated to 100 degrees all summer, and on spring and fall weekends, while the pool is heated on weekends in the early spring (mid-May until mid-June), and again in the fall (Labor Day through pool closing on Sept 18). Although open on weekdays in the spring and fall, the swimming pool and hot tub are heated on the weekends only in the spring and fall, and while the optimal 100 degree temperature can be maintained in the hot tub, overnight and daily temperatures will help determine the ability to raise the temperature of the swimming pool to our desired 75 degrees on spring & fall weekends.  A reminder that the pool and all Sunfox facilities are limited to registered campers and their paid guests.  Sorry, but the pool is not open to non-campers just looking for a place to swim on a hot day.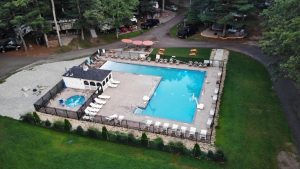 Pool Rules:  The state of Connecticut requires the following rules to be posted at the pool: All persons shall bathe with warm water and soap before entering the pool (tokens for showers available at pool during pool hours). Any persons known or suspected of having a communicable disease shall not use the pool. Spitting or blowing the nose in the pool is prohibited. Running, boisterous or rough play (except supervised water sports) is prohibited. Emergency phone is located on pool shed wall within hot tub area, and first aid kit is available at office. In addition, the state requires the following rules to be posted at the adult hot tub:  Elderly persons and those suffering from heart disease, diabetes, high or low blood pressure should not enter the spa. Do not use while under the influence of alcohol, anticoagulants, antihistamines, vasoconstrictors, vasodilators, stimulants, hypnotics, narcotics or tranquilizers. Do not use alone. Observe a reasonable time limit, (preferably not longer than 15 minutes) then shower, cool down and, if you wish, return for another brief stay. Long exposures may result in nausea, dizziness or fainting.  Pregnant women should consult their physician prior to use. Oils, Body Lotions and Soaps. Oils, body lotions and soaps shall be completely removed by the bather prior to use of public spas.  ADA accessible lift available for use.
In addition, please read  rules as posted, including: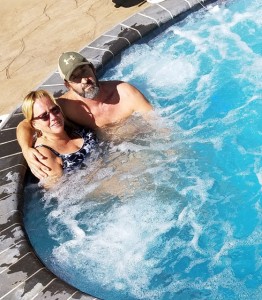 No lifeguard on duty
Shallow pool–NO DIVING!
Children under age 13 require your supervision at pool
No Food/No Smoking/No Glass/No Pets
18 & over in Hot Tub area
No beverages within reach of pool or hot tub
No Running or horseplay
USCG Approved Flotation Devices Only (no inflatables, such as "swimmies" or infant floats)
No diapers (infants are required to wear "swim pants")

Please do not swim alone

Tokens available during pool hours for shower use prior to swimming
After a rigorous permit process, Custom Construction Designs LLC (of nearby Griswold CT) worked hard to install the heated L-shaped pool, which features a zero-depth beach entry, ideal for our younger swimmers, with the slope gradually reaching a depth of 3.5 feet.  This portion of the pool is 12 feet wide and 42 feet long.  The main component of the pool is 24 feet wide and 48 feet long, ideal for pool volleyball, basketball or just plain swimming.  We also feature a whirlpool hot tub for the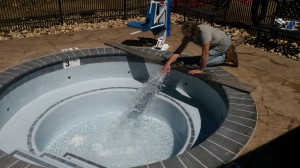 adults, 10 feet in diameter.  The stamped concrete deck and fencing was installed by Mancini Pool Decks of Wolcott, while our gazebo and pump shed is from Carefree Buildings of Colchester.  The project was financed by our friends at Dime Savings Bank of Norwich.  The pool complex is located at our ballfield area (shown on our site map), providing afternoon shade along the southwestern side of the pool.  The swimming pool did require us to move our kickball field to the other end of the field, and we have relocated our beach volleyball court to be near the Jumping Pillow.  For more photos, please visit our Facebook page, or try our Pool Photo Gallery.  We look forward to having your family join us poolside!