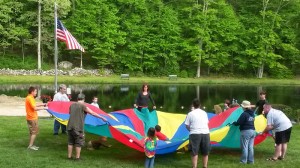 During the spring and fall, Sunfox presents special event weekends, and the activity schedule for each weekend is posted prior to that particular weekend (usually by Wednesday).  In the summer, there are daily events and activities, and the detailed schedule for each week is posted here.  In addition, a sample-summer-activity-schedule is available for viewing.  Please note that activities are subject to change, and printed schedules are presented upon arrival.  Be sure to view our Sunfox Activities Photo Album!
CURRENT SCHEDULE (updated weekly, April through October).  Please note that the 2021 schedule is currently a modified activity schedule due to Covid-19 precautions, with social distancing and masks required for any indoor venues.
The activity schedule for both Halloween Weekends will be very similar (swapped times for corn hole & wiffleball on Sunday morning, and the weather will be cooler for HW2).  Please note that if it rains around 5pm Sat, we will hold the costume contest at the event tent.  Activity Schedule Oct 22-24
Photos   https://photos.app.goo.gl/oYZLN1od1rC4VbXK9
https://photos.app.goo.gl/Ky2aokc55vq4QNZH9
We invite you and your family to participate in our activities, or you are welcome to cast your luck fishing in the pond…or just relax enjoying the music at our bonfire on the beach.