Sunfox Campground is a family-owned, family-oriented campground located in Lisbon, Connecticut…just minutes off I-395, and conveniently located in beautiful southeastern Connecticut. Sunfox is less than 30 minutes from Mystic, ocean beaches, and shopping, as new exit 19 (old exit 83A) off I-395 North is midway between Foxwoods and Mohegan Sun.  In the last few years, Sunfox has added a new swimming pool with hot tub, a Jumping Pillow, satellite cable TV, playground, an 80×40 event tent, our Disc Golf Course, RC Racetrack, basketball/pickleball courts, a new soccer/football field & 3 beach volleyball courts…you can also check out photos of some exciting additions and improvements.  For reservations or more information, you may call (860) 376-1081, email us at  camp@sunfoxcampground.com,  or you may also check availability, rates and make an on-line reservation using our  "Remote Reserver" . Sunfox is pet-friendly and is open April 1 through October 31. Be sure to see our Photo Album!
Sunfox features organized activities on our spring and fall theme weekends, as well as daily events throughout the summer.  Sites are available for weekends, vacations or for the entire season, with a choice of water & electric & TV sites (many with gray water dry wells), tent sites, RV sites with a sewer connection and  two on-site Park Model rentals as well. Take a dip in our heated swimming pool and adult hot tub! Free wireless internet service is available throughout the campground, with a 48-channel satellite cable TV system.  Our private stocked pond is perfect for swimming, fishing (catch and release), a canoe or paddle boat ride…and our Turbo Chute Waterslide. Enjoy a round of Disc Golf, bounce sky-high on our Kangaroo Jumping Pillow, or join us for family Bingo, a bonfire with music, or many other family activities on our spring and fall theme weekends or everyday during the summer!  Our 80 spacious sites are situated on over 60 acres of beautiful woodlands, conveniently located in Lisbon, Connecticut.  We are pet friendly, and permit leashed dogs to be walked throughout the campground.
Sunfox Campground  15 Kenyon Rd  Lisbon, CT  06351

    (860) 376-1081  or  email us at   camp@sunfoxcampground.com
Sunfox has added a ginormous playscape with 4 slides.  This structure joins our spacenet climber, spinner toys and jumping pillow near the beach, offering a variety of options.  Also, our new Disc Golf Course is open, with a new RC Track (remote controlled cars) and 80 x 40 Event Tent for Bingo and Dances.  Our  newest  additions  are our  basketball  court  (with  pickleball), our soccer field and our 3 beach volleyball courts.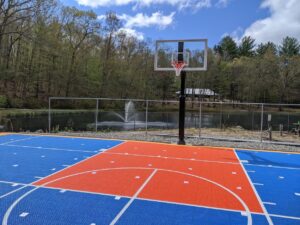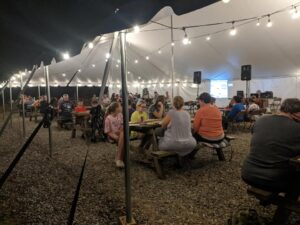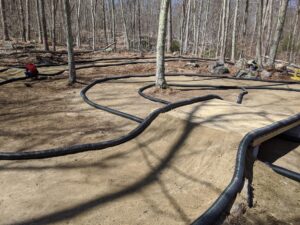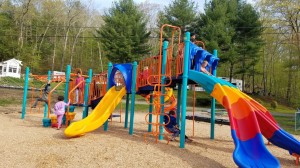 ---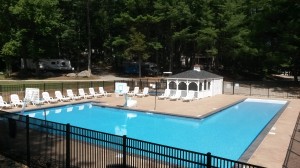 Sunfox invites you to check out our swimming pool complex, which opened on August 26, 2016.  After a rigorous permit process, Custom Construction Designs LLC (of nearby Griswold CT) worked hard to install the heated L-shaped pool, which features a zero-depth beach entry, ideal for our younger swimmers, with the slope gradually reaching a depth of 3.5 feet.  This portion of the pool is 12 feet wide and 42 feet long.  The main component of the pool is 24 feet wide and 48 feet long, ideal for pool volleyball, basketball or just plain swimming.  We also feature a whirlpool hot tub for the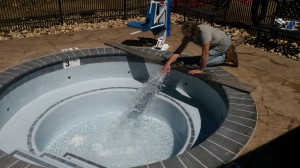 adults, 10 feet in diameter.  The stamped concrete deck and fencing was installed by Mancini Pool Decks of Wolcott, while our gazebo and pump shed is from Carefree Buildings of Colchester.  The project was financed by our friends at Dime Savings Bank of Norwich.  The pool complex is located at our ballfield area (shown on our site map), providing afternoon shade along the southwestern side of the pool.  The swimming pool did require us to move our kickball field to the other end of the field, and we have relocated our beach volleyball court to be near the Jumping Pillow.  For more photos, please visit our Facebook page, or try our Pool Photo Gallery.  We look forward to having your family join us poolside!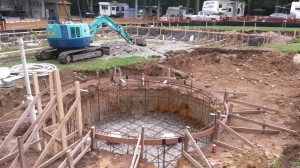 ---