Sunfox is proud of the reviews provided by our campers.  We invite any prospective campers to read the comments that other guests have made.  Sunfox is a family-owned, family-oriented campground, and we realize that there is no single campground that is perfect for the tastes of all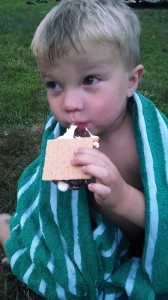 campers.  Please feel free to provide your own review of your camping stay at websites such as Trip Advisor, Google Reviews or Facebook.  When comparing reviews of potential destinations, we encourage you to view the most recent comments, as well as the overall average score.  Shown below are some comments that have been provided by our campers…for more reviews, visit Google Reviews or TripAdvisor or Facebook.
"Great campground for a family"
Reviewed on Trip Advisor by Bob B. of Grafton, MA
My wife and I recently stayed at Sunfox Campground for a few nights. Dave and Jen are doing a wonderful job at the campground. They both have worked in the campground business for many years. There are lots of activities offered for both adults and children. They do take a lot of pride in the campground and are very visible throughout your stay. They are planning on updating the campground every year. We plan on returning next summer with our grandchildren. I would strongly recommend that you check out Sunfox Campground – you will not be disappointed!
"Will return for years to come"
Reviewed on Trip Advisor by Fastcamaro68 of Copiague, NY
What a great place to camp and have lots of fun. We stayed for 5 days and it was great…the owners and staff were friendly and went out of their way to make our stay great. Lots of activities for adults and kids. I know Dave and Jen have just purchased this campground and can see they have done lots of work…and have many plans for the future. Our family will be returning for many more years to come!
from Danielle N on Facebook…"We had a great long weekend. We will definitely be back for years to come. It was exactly the experience I wanted my daughter to have. She is already asking when we can go back."
from William B on Facebook…"Dave and Jen are the friendliest people you could ever meet. The camp is always out to please the guest and always have a ton of things going on. Dave is the best bingo caller that anyone could know. Even his kids are friendly and outgoing. I will definitely recommend this campground to anyone and i will be back soon."