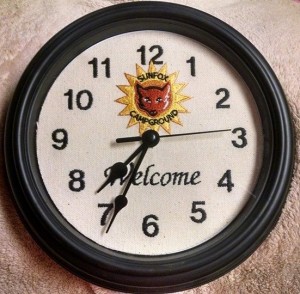 During the spring and fall (before June 14 and after August 25), Sunfox Campground is pleased to offer early check-in times for most campsites, and welcome you to arrive anytime after 9AM if your campsite is available (just give us a call the day prior), excepting on Sundays and holiday weekends*, as extended check-out times are offered on those days.  In addition, during the spring and fall, we offer extended check-out times of 4PM on Sundays and holiday weekends…and invite you to ask about the availability of extended check-out times on other spring and fall weekdays during your visit with us.  On our spring and fall weekends, if not taking advantage of the $25 add-a-night discount, feel free to check with us about dropping your RV off on Thursday (or coming in early on Friday).  Just $5 for the night if RV unplugged or coming in early Friday…or $10 if dropping RV off and leaving plugged in.  This special can be added, if available, by calling us 1-5 days in advance of your arrival date, and can't be reserved earlier, as allowing sites to fill with traveling campers. 
During the peak summer season (June 15 through August 26), check-out times for campsites are at 12PM daily, except on Sundays, when site check out is extended until 4PM.  Daily check-in time for campsites is at 1PM in the summer, except on Sundays, when site check-in time is 4PM.  For all RV & Park Model Rental units, summer check in is 4PM, while rental check out time is 12PM, as we do need time to prepare the rental units for your arrival.
*For advance reservations, as we do not break up weekends, we are unable to accept advance reservations for Saturday arrivals or departures. If there is still any last-minute availability 3 days prior to your desired Saturday arrival or departure, we welcome arrivals after 4PM on Saturday, while any Saturday departures must exit before 12PM.
Sunfox Campground
Check-in and Check-out Times
(unless otherwise noted)
Spring and Fall
Summer

April 1–June 14
June 15 to Aug 25

& Aug 26—Oct 31
Reservation Type

CHECK
IN

CHECK OUT

CHECK IN

CHECK OUT

Site—Mon-Fri

1PM (please call to confirm site vacancy if arriving before 1pm)

12PM

1PM

12PM

Site—Saturday

4PM*

12PM*

4PM*

12PM*

Site—Sundays & holiday weekends

4PM

4PM

4PM

4PM

RV Rental—Sunday

4PM

4PM

4PM

12PM

RV Rental—weekday

1PM

12PM

4PM

12PM
Early Arrivals/Late Departures
Please be aware of published check-in and check-out times noted above.  We welcome those arriving early or desiring to stay late to park their camping units and all vehicles in our "Early Check-in/Late Check-out Area", during which time campers may use all facilities at no cost. Summer reservations arriving prior to check-in time whose site or rental unit is ready early will be offered the option of an early check-in (anytime after 10AM, up until published check-in time), while those wishing to stay on their site beyond check-out time (if no arrival is due in) will have the option of staying until as late as 6PM. Please note that these summer options may NOT be reserved in advance, as it is based on availability at the time of your stay, and are subject to additional restrictions (and spring/fall reservations already feature early check-in and late check-out times).  Of course, you may still opt to park in the early arrival/late departure area and utilize facilities and activities at no additional fee until published check-in time.
Late Arrivals/Early Departures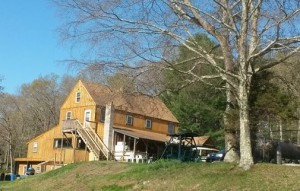 Any campers arriving after the start of quiet hour may be directed to an overflow area until morning to prevent any late set-up from disturbing those around you.  Please be considerate when arriving in the late evening hours.  We can't permit the driving of tent stakes, the chopping of firewood and the general commotion associated with setting up your campsite to cause a disturbance for other campers. Please note that your reservation with required paid deposit will be held until 12Noon of the day following your scheduled arrival date.  Unless Sunfox Campground is notified, failure to show by such time will result in reservation being treated as a "No Show" with the site being made available for re-booking with no compensation, refund or credit due to camping party.  Camping is an outdoor experience–there is no refund or credit for early departures. Any site that is vacated early may be re-booked with no compensation due to departing camper.