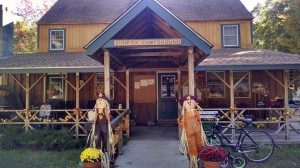 Main Office and Store:  Registration desk, convenience store with firewood and bagged ice, as well as equipment for kayak or paddle boat rentals.  Our Laundromat is also contained within the office.   Visit us for a delicious Slush Puppy!
Campsites: All sites have a picnic table and fire ring.  RV sites have water, electric and cable TV, as well as some sites with a sewer connection (pump-out service and a dumping station available as well).  Free Wifi is also available throughout the campground. Tenters are also welcome, either on sites with no hook-ups or on sites with water & electric, if preferred.  Sunfox can also accommodate groups and camping clubs.  Please refer to our map page for individual pictures of campsites.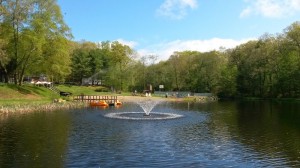 Pond:  Our freshwater pond is stocked with trout, although you may also catch bass, sunfish or perch (catch and release only, please).  The beach area is designated for swimming (no lifeguard on duty, and children under 13 must be supervised), with plenty of room for the kids to dig in the sand…or to try our Turbo Chute Waterslide, with sled rentals available. Paddle boats, kayaks, stand up paddleboards and Corcls are also available for rental. While dogs are not permitted at the beach, they are invited to take a dip on the far side of the pond.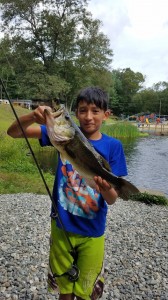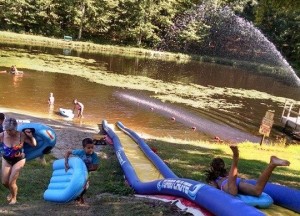 Turbo Chute Waterslide: Zoom into the pond on our turbo sleds (rental sleds available at office)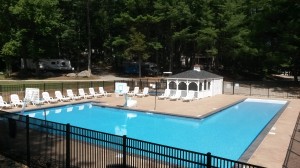 Swimming Pool & Hot Tub:  The main pool is 24 x 48, with an extended L-shape design that is 12 x 42, featuring a zero-depth beach entry.  We also offer a whirlpool hot tub spa for adults 18 & over, as well as a large deck. Both the pool and the hot tub utilize state-of-art chlorinators, supplemented by UV and Ozone sanitizing systems, providing superior water clarity.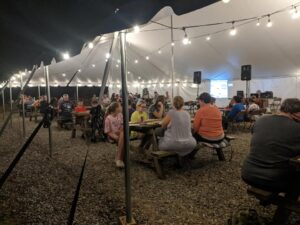 Event Tent:  Sunfox has installed a new 80×40 tent to allow for social distancing in an outdoor setting for Bingo, dances, bands and other gatherings.  Located across the pond.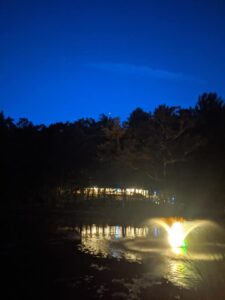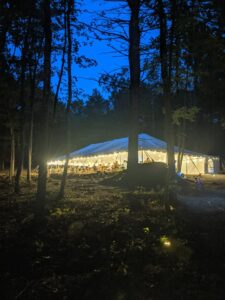 Kangaroo Jumping Pillow:
Great fun for all ages!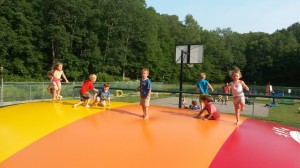 Disc Golf:  New for 2021! 9 holes of disc golf along hiking trail. See photos of each hole and a course description at "Disc Golf"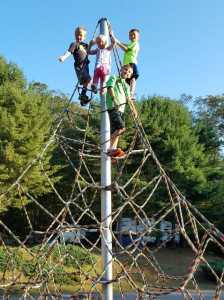 Playground: Our classic playground near the beach features a new playscape with 4 slides, a merry-go-round, new swings, see-saw, & spring toys, while our recent Kompan additions include a 17′ foot tall Spacenet Climber, a Supernova spinner, a Spica Spinner and a pair of Spinner Cups.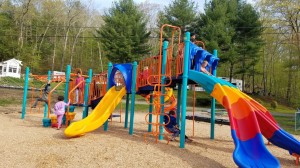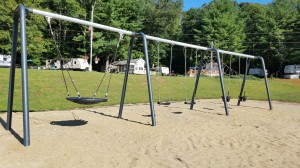 New Basketball Court for 2021: Full 72 x 50 Versacourt with glass backboards and lines for Pickleball as well.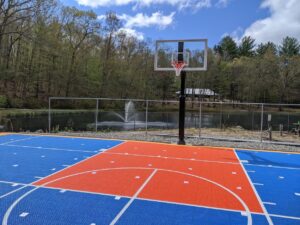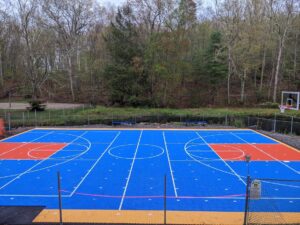 Pickleball Courts:  New for 2021, Sunfox has added a pair of Pickleball courts on our new Versacourt basketball court, with portable nets available.
GaGa Ball Pit:  A new addition for 2020, this popular form of dodgeball can be played by any age.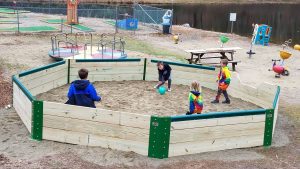 3 Beach Volleyball Courts: New for 2022…Bring your own ball, or borrow one from the office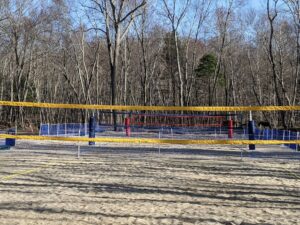 Horseshoe Pits:  A pair of pits for tournaments or friendly pitching among family members.
Hiking Trails: See a map of our trails!
New Soccer/Touch Football Field: Our 60 yard by 30 yard field is perfect for soccer, football, ultimate Frisbee and more!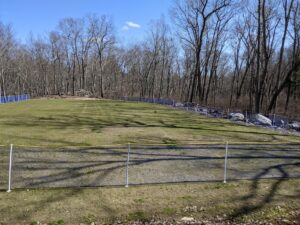 RC Race Track:  New for 2021, over 300′ feet of track, with jumps, an underpass and banked turns.  Bring your RC car and give it a try, or compete in one of our scheduled races.
Corn Hole Courts: 4 sets of boards are available for camper use, with tournaments also conducted.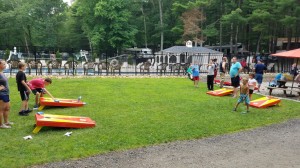 Rec Hall with Stone Fireplace: Join us for Bingo or a dance in the Rec Hall, with seating for our special event dinners.  Air hockey and pool tables are available for use, with ping pong, darts and foosball located next door under the mini-pavilion.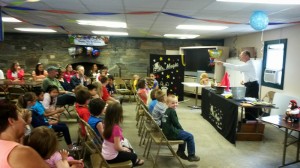 Dumping Station:  Available at no charge for all registered campers.  Fee of $20 will be charged for those seeking to use the dump station without camping at Sunfox. On-site pump-out service is also available for a $20  fee on scheduled days (typically Wed & Sun), and $40 for an emergency pump-out.  Fees based on 1 connection per RV–if a 2nd connection is required, the fee is 50% more (ie $30 if 2 separate tanks with 2 separate connections, such as 2nd bathroom or galley tank).