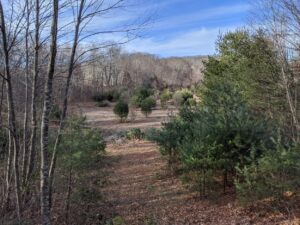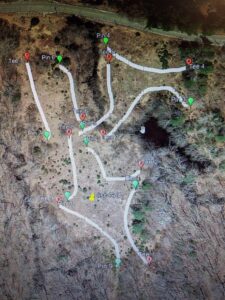 Sunfox offers a 9-hole Disc Golf Course for free use by our campers and their registered paid guests, with seasonal Disc Golf memberships available for interested local players (see additional membership info below, or enjoy the free public course located at the Lisbon Meadows, less than 1 mile from the Sunfox Course or in Mohegan Park in nearby Norwich).  Our new course is located on a portion of the former Lisbon Golf Course, along our hiking trails (5 minutes from either the front gate, using the Blissville Brook trail, or 5 minutes from the office using the Mountain Trail near site 72…no parking along Kendall Road please).  The course features Innova Disc Catcher targets and brick paver tee boxes.  There are water hazards, and landing out of bounds can put you in briers or thicket. For a more complete description of the course, and photos of each hole, please see our Disc Golf Photo Gallery.  You may also view layout and keep score using the U-Disc app
Hole 1: 250 feet. Par 3. Cliffhanger. Elevated tee. Slight right curve.
Hole 2: 320 feet. Par 4.  Over bridge.  Dogleg right at 210 feet.
Hole 3: 160 feet. Par 3.  Slight right curve.  Can risk going over pines.
Hole 4: 270 feet. Par 3. Brookleg. Dogleg right over brook 210 feet. Can cross bridge.
Hole 5: 155 feet. Par 3. Boulder. Slight curve left.  Avoid brook. Narrow option from left of rock.
Hole 6: 220 feet. Par 3. Mound. Elevated flag.
Hole 7: 230 feet. Par 3. Pines. Narrow approach.
Hole 8. 330 feet. Par 4. Mountain. Dogleg right at 150 feet.  Option under trees.  Elevated flag.
Hole 9: 200 feet. Par 3. Sunset. Slight dogleg right.
Sunfox Disc Golf Membership Info:  Course use is limited to Sunfox campers, as well as members and their paid guests.  Please note that membership permits use of the Disc Golf course only–it does NOT include campground amenities or activities such as the swimming pool & hot tub, basketball & pickleball courts, stocked pond, volleyball, Bingo etc.  If interested in those facilities, please inquire about campsite availability.  Please understand that unlike public courses that are funded by local taxes and corporate sponsors, private course installations such as Sunfox are paid for by the campground, for primary use by paying campers, with construction costs exceeding $8,000 (disc catches, tee boxes, signage, land clearing etc).  Feel free to check out the public course at Lisbon Meadows or Mohegan Park in Norwich.
2021 Membership Fee (signed waiver required): $50 per single player…$75 per couple…$100 family membership (max of 2 adults and 4 kids ages 21 & under at same address).
Members are permitted to have guests join them for a fee of $3/player (a member must be present for a paid guest to play Sunfox course).  Guests are restricted to Disc Golf (unlike paid campground visitors at Sunfox, who may use facilities and activities…see info here regarding Visitor Fees)