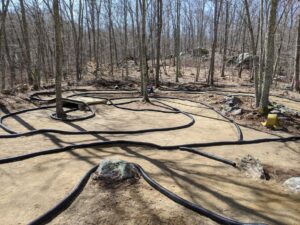 Sunfox has added a new remote controlled car track, with over 300 feet of racing action.  The course features multiple jumps, banked turns and an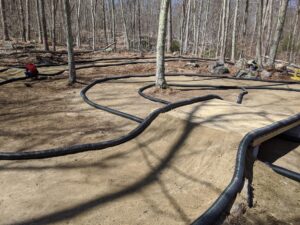 over-under bridge jump…with a risky bypass loop-the-loop option.  Campers are encouraged to bring their RC cars, but are reminded that you race at your own risk.  Sunfox is not responsible for any crashes, or any damage that may be caused by other drivers, and we don not offer RC rental cars.  Please be respectful of other racers.  The track is for RC vehicles only–NO BIKES!  Also, dogs are not permitted in the track area.  Only active racers should be on the racing deck platform, while spectators are welcome to watch from the track perimeter.  Please note that the overhead clearance under the bridge is 17 inches (just tall enough for a "Grave Digger" to make it under), while the loop-the-loop is quite narrow (and you only need moderate speed to complete the loop…but could easily crash if approaching too fast).  The track is located 200 yards from the swimming pool, with access across the stream near the pool area restroom (bridge is near site 31E), adjacent to the future site of our soccer/football field.  Please do not cut through campsites to cross the stream.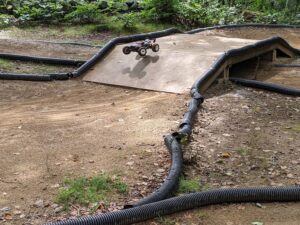 Congratulations to our 2021 Season-Long Points Champion Ben K, who also set the track record in 2021 with a lap of 25.6 seconds!
Current Course Record (during competition time trials): Ben K 21.55 on 8/26/23, 21.95 on 9/24/22 and Dan K 22.97 on 5/21/22
Congratulations to our 2022 Play-off champion Todd N, edging out Ben K in the finals.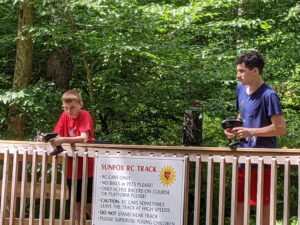 Our 2023 Points Leaders:  As of 8/26/23
| | | | |
| --- | --- | --- | --- |
| | Sunfox 2023 RC | Season | Fastest |
| Ranking | Name | Points | Lap of 2023 |
| 1 | Ben | 199 | 21.55 |
| 2 | Dylan | 64 | 26.72 |
| 3 | Mike | 50 | 24.44 |
| 4 | Aiden | 46 | 24.98 |
| 6 | Matt | 32 | 27.15 |
| 5 | Todd | 26 | 23.02 |
| 7 | Kenny | 14 | 25.38 |
| 8 | Eric L | 13 | 27.21 |
| 9 | Luke | 11 | 32.47 |
| 10 | Dan K | 9 | 23.42 |
| 11 | Tyler | 7 | 23.97 |
| 12 | Nolan | 4 | 1:00:00 |
| 13 | Eric B | 4 | 26.03 |
| 14 | Jesse | 3 | 28.46 |
| 15 | Alex | 3 | 48.26 |
| 16 | Brett | 3 | 51.32 |
| 17 | Quinn | 3 | 39.3 |
| 18 | Nate S | 2 | 29.64 |