Birthday Parties at Sunfox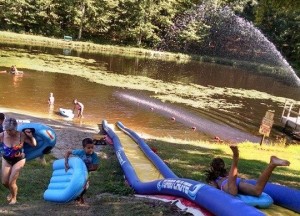 Sunfox is happy to host a birthday party for your child.  Our birthday parties include a 2 ½ hour block of time, with access to all Sunfox facilities, including our swimming pool (in-season), Kangaroo Jumping Pillow, pond and more (please note that this is NOT exclusive access, as there will always be other campers and their families using the facilities). Your group of 10 or more paid guests will be provided with a staff counselor to assist you in your activities, and we provide picnic tables for your gathering (with our Event Tent available for your dining hour if the weather isn't cooperative).  We invite you to bring your own food, cake and ice cream, and you can also bring a piñata that we will help hang at the playground (we will provide a plastic bat, but you are responsible for the safety of the spectators and ensuring that no one ends up on AFV).  A few things to note:
 Please be aware of swimming pool rules, such as "No Lifeguard on Duty" and only USCG Approved flotation devices.  We strongly suggest that you plan for pool use either BEFORE or AFTER any planned time for food and cake.  There are numerous restrooms throughout the campground, but as most campers "change" at their campsites, there is not a locker room or changing room…so wearing a bathing suit is an option. Also, the hot tub is for adults 18 & over only, and while we welcome the parental chaperones to swim with the kids, please don't abandon them for the hot tub.
Disc Golf requires adult supervision, and is located 5 minutes from the Jumping Pillow.  Allow 30-40 minutes, depending on the age of the players, and players must provide own discs
The Kangaroo Jumping Pillow is for bouncing and jumping.  No shoes, no pushing, no wrestling and no flips.
Paddleboat rentals are available at the cost of $5 for 30 minutes, and required life jackets are provided.
Parking for guests is located near the volleyball court and along the stream prior to the Jumping Pillow.  Additional parking may be available on some campsites near the Rec Hall for Sunday afternoon parties in the spring or fall.
While you are invited to take part in any scheduled campground activities that may be taking place, if you would like to have any particular events for your birthday party, please let us know in advance.  Options include:

Wagon Ride (allow 20 minutes, and must be coordinated with timing of scheduled Sunfox ride)
Water Balloon Toss (allow 10-15 minutes)
Parachute Games (allow 15 minutes)
Swim Races (allow 10 minutes)
Dodgeball (allow 20-30 minutes)
Tug of War (allow 10 minutes)
Birthday Party Rates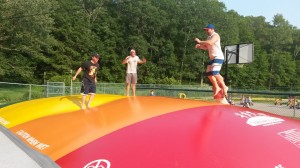 Please note that while Lisbon Zoning regulations permit campgrounds to provide temporary outdoor recreation opportunities, we currently require anyone who is hosting a birthday party to be considered a "camper".  Therefore, the base camping rate of $49 spring/fall or $59 summer for a tent site will be applied, which will cover the immediate family of the birthday child (up to 6 people).  We encourage the family to arrive early, and welcome you to stay beyond the time reserved for the party. The rate for additional birthday party guests is as follows:
Children Age 3 and under:  Free (when accompanied by an adult)
Children Age 4-12: $10/child
Teenagers (13-17): $10/teen
Adults Attending the Party (those who are not chaperoning an invited paid child): $10/adult
Adults Accompanying a Paid Child: No charge.  We want your parental chaperones to stay, and discourage drop-offs. You are responsible for your child, so you are not expected to spend your day in the hot tub.  If you are dropping off your child (at least 8 years old), please be sure to designate a surrogate adult who is staying and accepting responsibility for your child, and provide that person with emergency contact info.
Please note that we welcome you to allow birthday party invitees to bring siblings, but they will be charged accordingly.
If utilizing the event tent, there is a minimum party fee of $150.  In addition, guests remaining beyond agreed times for scheduled party will be charged accordingly ($50/hr or portion thereof for tent use).  Lastly, an advance deposit of $100 is required to hold any date for a birthday party (unfortunately forever known as the "mother of Tiffany & Chanel" twins rule).
Birthday Party Times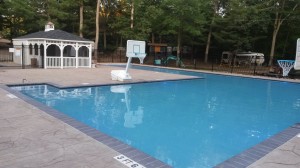 Most birthday parties are scheduled for Sunday afternoons.  However, weekday and Saturday options are also available.  Please note that birthday parties will not be scheduled on holiday weekends.  Also, while Sunfox is able to host birthday parties in the early spring and late fall, please note that the swimming pool is open mid-May through mid-September.
Summer Weekdays:  Parties can be scheduled on Monday-Thursday from mid-June until the end of August.  The usual time frame is 4:30PM until 7PM, but is flexible depending on needs and available daylight, as well as campground-scheduled activities.
Saturdays:  Please note that Saturdays are the busiest day of the week in terms of campers.  Due to Bingo, use of the Rec Hall or Event Tent is limited on Saturday.  Available times are generally 11AM-1:30PM and 3PM-5:30PM, but please feel free to ask about other options.  Sunfox may limit the size of your Saturday party.
Sundays:   While flexible, the most common Sunday time frame is 1:30PM until 4PM…but don't hesitate to ask about other times.
As a campground, our campers are also welcome to have birthday parties at their own sites, utilizing the facilities just like other campers, and simply paying the published day visitor fees for those who are joining them.  This option would not include the birthday party features noted above.