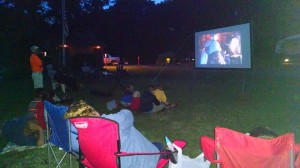 New Satellite Cable TV and free wireless internet are available throughout the campground, with our TV package expanded to 48 channels.
WIFI (via Checkbox Wireless)
Each site receives 1 free ticket for one device for the duration of your stay, while one free hour for any other device is provided each day. Additional tickets for any extra devices are available for just $1 per day, $5 per week, $10 per month or $30 for the season by purchasing access code tickets in the office or on-line via PayPal. Please note that the materials used in construction of some RVs (steel, aluminum, fiberglass) may inhibit signal strength, and best reception will be achieved at your picnic table outside your RV.  There are numerous "Hot Spot" antennas located throughout the campground, but reception may vary based on your computer's wi-fi antenna, the weather or other factors that impact wireless signals.  Please note that beyond the one free device and the free hour provided each day, the nominal rate for additional time for additional devices is intended to prevent the network from being accessed by non-campers, or becoming bogged down by users who never log off once they are connected, utilizing bandwidth whether or not the computer is being actively used.  Our wi-fi network is intended to allow campers to check their email and browse the web.  It is not intended to provide for downloading movies or large files, nor should it be considered an alternative to a secure, wired connection that may be needed for some business applications.  The ability to utilize streaming services may be limited during heavy usage times.
Satellite Cable TV
Sunfox recently updated our satellite cable TV system to digital HD, with 48 channels.  You will need to do a channel scan, and some smart TVs require pretty smart operators to program properly.  If your TV is very old and analog only, you will need a digital adapter. You may also visit the Rec Hall, where major sporting events will be shown on the big-screen TV, as well as being shown on the TV at the swimming pool.
The following channels will be included in our free satellite cable TV service. We have offered a mix of locals, news, sports, children's channels and more, with our campers helping in the selection of the most popular stations. Unfortunately, there are some premium channels that are either unavailable or would almost double our programming fee…such as HBO, YES, SNY, Fox Sports.
Channels subject to change without notice
| | |
| --- | --- |
| Ch # | Channel |
| 2 | PBS |
| 3 | CBS |
| 4 | NBC |
| 5 | CNN |
| 6 | FOX |
| 7 | MSNBC |
| 8 | ABC |
| 9 | MYTV9 |
| 10 | WEATHER |
| 11 | Fox News |
| 12 | HISTORY |
| 13 | DISCOVERY |
| 14 | ANIMAL |
| 15 | HGTV |
| 16 | TLC |
| 17 | Travel |
| 18 | Food Network |
| 19 | Cooking Channel |
| 20 | DISNEY |
| 21 | DISNEY JR |
| 22 | Disney XD |
| 23 | NICK |
| 24 | Nick JR |
| 25 | CARTOON NET |
| 26 | FREEFORM |
| 27 | FX |
| 28 | TBS |
| 29 | TNT |
| 30 | A&E |
| 31 | BRAVO |
| 32 | LIFETIME |
| 33 | HALLMARK |
| 34 | USA |
| 35 | TV LAND |
| 36 | Comedy Central |
| 37 | AMC |
| 38 | SYFY |
| 39 | Paramount |
| 40 | E! |
| 41 | XM Radio "The Bridge" |
| 42 | WB (WCCT 20) |
| 43 | NFL Network |
| 44 | ESPN |
| 45 | ESPN2 |
| 46 | NESN (Red Sox) |
| 47 | Channel Guide |
| 48 | MLB Network |
| 49 | Golf Channel |